How Much Does a Custom Home Build Cost in My Region?
One of the most important factors that determines custom home build cost in the U.S. is where in the country you want to live.
Working with a custom home builder to make your dream home a reality is a serious investment. But how major that investment is depends a lot on where your dream land is located.
Your choice in home builder isn't only about cost. It's about living the life you've always dreamed of. But it's certainly important to understand what to expect and why.
That's why we put together this guide to cost by region, including – last but not least – our own part of the country, South Carolina's gorgeous Lowcountry!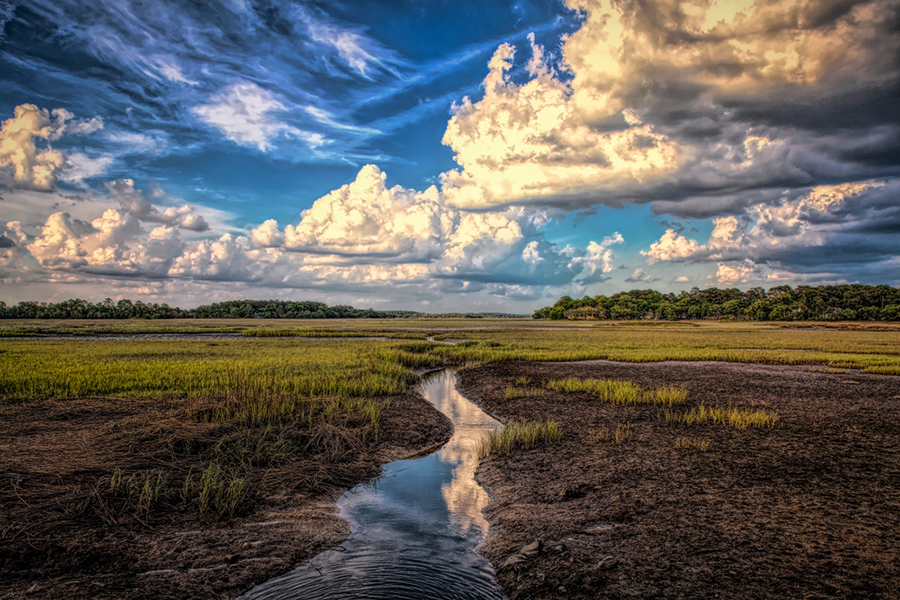 ---
Midwest
Average cost per square foot in St. Louis, Missouri: $111.21
Can you get a lot of home for your budget in states like Missouri, Indiana and Ohio? You bet. Relatively low cost of living compared to the rest of the country drives prices down.
Of course, it takes a special kind of love for the region to draw you there. Erratic weather bringing snow and slush one month, heat and high humidity the next, means your house has to be ready for everything.
You really have to love your indoor space because outdoor living is limited. In Indiana, the sun may only come out less than half the year. That's why many Midwesterners invest in nice finished basements where they can go to shoot pool and play video games as they hide from the elements.
Northwest
Average cost per square foot in Seattle, Washington: $141.74
The Pacific Northwest draws people for a variety of reasons from the diversity of culture to the beauty of mountains, forests with rivers and lakes, and the Pacific coastline to boot. That's why they're willing to invest a bit more in the area.
However, those drawn to the Seattle area have to weigh those benefits against living under one of the greyest skies in the nation. It rains 152 days a year, on average. It's no better further south in Portland, Oregon, where the average is 155 days.
West Coast
Average cost per square foot in Los Angeles, California: $163.51
California's coastline draws millions for obvious reasons. If the sunny skies, gorgeous beaches and the majestic ocean weren't enough, the job opportunities in Silicon Valley and Hollywood to name a couple, the nightlife and the foodie culture all make a compelling case for living there.
But the cost of building a custom home in major metropolitan areas like San Francisco, Los Angeles or San Diego is considerable.
In San Francisco, construction costs have been on the rise for years due to a shortage of labor. As of 2018, builders were struggling with a market that was hitting as high as $330 per square foot.
In LA, the scarcity problem isn't with labor, it's with flat land. Steep hillsides create challenges in the building process that add to a home builder's time and effort.
In San Diego, pricing rose sharply (15%-17%) from 2018 to 2019 in growing areas like El Cajon and Escondido as families flood in to be near good schools, restaurants and more.
Southwest
Average cost per square foot in Phoenix, Arizona: $119.08
Like the west coast, the Southwest region of the U.S. holds the promise of plenty of sunshine. The Phoenix, Arizona area features a robust job market and good infrastructure that lets you get just about anywhere in 30 minutes. Despite being in the desert, skiers can enjoy snow a mere two hours away.
But it is the desert. It's very hot. It's also dry, which means part of what goes into the custom home build cost is connecting an "off-grid" house to a reliable water source. And water is an ongoing issue.
Those who want to build in Pinal County, which neighbors the Phoenix area to the southeast, may struggle with growing concern over long-term water sustainability. Water scarcity tends to drive up permit costs.
At the same time, land cost is driven by demand. Much of the demand in Pinal County and throughout Arizona is generated by developers competing for limited available land, as more than 80% is owned by governments or Indian reservations.
Alaska
Average cost per square foot in Juneau, Alaska: $167.91
It may be cold, but Alaska is gorgeous. Its mountains are breathtaking. Among them is the highest peak in North America, Denali (previously known as Mount McKinley) at an elevation of 20,310 feet.
Still … surprised the cost of home building is so high for a place that's so cold and snowy (average snowfall in January is 28 inches!)?
As is the case in California, labor cost is what drives up the cost so much in Alaska. The state has the fifth highest labor cost in the nation, likely because there just aren't as many workers as there are in the inner 48. Where it's warm.
Brrr.
Hawaii
Average cost per square foot in Honolulu, Hawaii: $203.83
As dicussed above, California's west coast is gorgeous. And Hawaii is where Californians go on vacation. Need we say more?
But the most luxurious islands in the United States are developed and land is in high demand. And there's only so much of it … so, it's not hard to figure out why this is the most expensive place to build a custom home in the country.
Northeast
Average cost per square foot in Portland, Maine: $143.31
Areas like New England offer breathtaking landscapes, vibrant autumn foliage, beautiful old lighthouses and other colonial architecture, and dining on the freshest cold-water fish and lobster.
Custom home construction requires a strong investment in insulation, however, because winters can be harsh. Those who move there have to brace themselves for long, cold, dark winters (you know, the stuff of all the best Stephen King novels).
South
Average cost per square foot in New Orleans, Louisiana: $121.29
It's not just an escape from the cold that draws people here. Southerners swear by a culture of hospitality and kindness. Sweet tea. Faith. Country music. While living in Louisiana may feel pretty different from living in Florida in many ways, these elements of culture tend to unify the South.
But many of the custom homes in these places fight a common enemy: humidity. And it can cause havoc if you're not prepared for it.
In the wake of Hurricane Katrina, Brat Pitt's Make It Right foundation built homes to aid the devastated Lower 9th Ward in New Orleans. It was a great gesture, but years later, those houses are plagued with mold and rotted wood. They're falling apart because the builders didn't invest in quality materials.
(Of course, just a little ways east, you'll find an area that's much more hospitable weather-wise. It's a place we feel takes all the best of these United States and rolls them into one destination …)
Southeast (South Carolina's Lowcountry)
Average cost per square foot in Hilton Head Island, Bluffton, Palmetto Bluff, Okatie: $120.48-$134.89
Want a temperate climate? Check! The Lowcountry offers highs from 60 degrees in the winter to 90 degrees at worst (but not for long) in the summer.
Want gorgeous ocean beaches? You got it! The beauty of the Atlantic awaits you
Shopping and fine dining? Check!
Golf? You bet!
Breathtaking forests? Of course.
You're only about a half day's drive from mountains and waterfalls, too.
We have it all … and for all this, a reasonable cost for a custom home build to boot. Sorry, but you just can't beat the Lowcountry!
CUSTOM HOME BUILD COST ISN'T ABOUT WHAT YOU SPEND, IT'S ABOUT WHAT YOU GET
If you already live here, this isn't news to you. But if you're thinking about relocating, put a call to ALS Construction on your to-do list.
We'll tell you all about how wonderful this region is. And of course we'd love to talk to you about the dream home you plan to build, too!
We want to welcome you to the Lowcountry as your new custom home builder. Contact us to learn more. Let's get excited about this new chapter of your life together.
Let's talk about my dream house!