Create Your Perfect Custom Floor Plans in 8 Steps
Think through your desired day-to-day lifestyle.
Consider times when life will be out of the norm.
Decide how rooms will connect to each other.
Put people in the house.
Place the position of the sun.
Sketch some of the exterior.
Think safety.
Take it to the professionals.
Don't you want to get your dream home out of your head? To start seeing it develop into something you can communicate to others? (Your spouse, friends?) If so, it's time to get started on a custom floor plan.
If the idea of doing this on your own intimidates you, there are a couple of things you should kno
First, a custom floor plan is not the same as technical blueprints. We're not talking about teaching yourself computer-aided design here (CAD). Just some simple sketchin
Second, you don't have to do it on your own if you don't want to! You can put this entire process into the hands of professional
This article is for you whether you want to get the ball rolling with your own two hands or just want to better understand this eight-step process.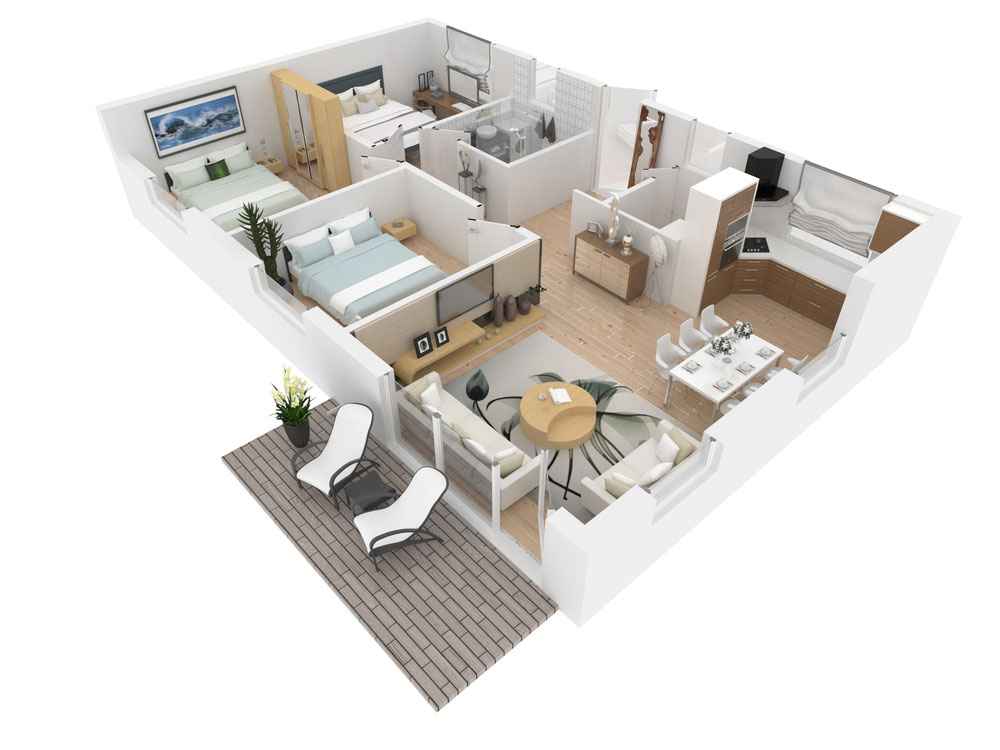 ---
1. Think through your desired day-to-day lifestyle.
The first question to ask yourself is, how do I want to live? This will help you figure out roughly how large your home needs to be overall.
Bigger isn't always better. For example, having a two-story house with a beautiful winding staircase might sound wonderful at first. But do you want to go up and down those stairs every day? That's an even more important question when you consider aging in this house.
2. Consider times when life will be out of the norm.
Next, think about what you want to do in your home outside of daily living to determine how many rooms, and what kind, you'll need.
If you plan to have friends and family overnight fairly often, you will need to plan for guest rooms and additional bathrooms. There also may be seasons during which you'll be using a home office more heavily, and it may make sense to have a room dedicated to that purpose.
(You might have noticed that you haven't actually drawn anything yet. We're almost there.)
3. Decide how rooms will connect to each other.
Now that you've covered lifestyle, consider activity and movement. This will give you a sense of how best to arrange the rooms you've decided you need.
You might not want the entertainment center to be right next to the master bedroom, for example. Someone will inevitably want to sleep while someone else wants to enjoy the in-home theater. And every bedroom needs to have a bathroom nearby (for obvious reasons).
This is when you can put pencil to graph paper (or using basic design software if you have it) and start fitting these rooms together.
4. Put people and furniture in the house.
As you draw rooms, don't forget the stuff that goes into them. People and their furniture drawn reasonably to scale will help you determine the size of each room in relation to one another.
Obviously, if you and your spouse are sharing the master bedroom, putting your king-size bed in the middle of it makes it clear that it needs to be bigger than a single guest room. Your living area is likely to have at least a couch and a couple of recliners.
And if you love to cook, don't forget to draw that kitchen island – and yourself, and all the space you need to move around.
5. Place the position of the sun.
Go ahead and draw the sun – where you want it to rise and where you want it to set. No, you have no power over the sun. This exercise helps you think about your desired orientation of the house.
You may want your office to have as much sun as possible throughout the day. If that's the case, it ought not face the sun directly at any time, but instead be placed on the south side of the house. Here in South Carolina's Lowcountry, home buyers often want the living room on the east side, with windows facing the Atlantic and the sunrise.
6. Sketch some of the exterior.
Speaking of the view, once you've settled on your dream house's orientation, it's time to think a little about landscaping in relation to the sun.
Your sunrise view will eventually be obstructed by the trees you want to plant, so maybe you'd prefer them on the west side. Your flower garden will need a lot of sun, so consider placing it on the south side. That may be where you want to place the front door. (Don't forget to draw that!)
7. Think safety.
Next, make practical adjustments for the sake of family, friends and visitors – especially elderly people and children.
You may need to widen the openings between rooms if you have someone in your extended family who uses a wheelchair. Make sure there are plenty of windows in the room where you've set a fireplace. Consider placing the pool, the garage, and any other external structures in view of your home office.
8. Take it to the professionals.
Of course, the final step will always be to take your ideas to professionals who can critique them, improve them and eventually make them a reality.
Show your custom floor plans to your custom home builders. Don't be shy about it. No matter your level of drawing ability, having something on paper will really help you successfully communicate your goals.
CUSTOM FLOOR PLANS GET YOU ONE STEP CLOSER TO YOUR NEW HOME
Of course, there's a lot that happens after this initial step to make your dream house a reality. But nothing can happen until you get your dream out of your head and on paper.
You don't have to draw a single line yourself with ALS Construction. As we've written about before, we're a full-service builder with an architect on hand. We just want to encourage you, if you're so inclined, not to be afraid to start jotting ideas down.
Then, all you have to do is contact us. We'll take it from there – all the way to the day you turn the key and enter your new, perfect front door.
Let's talk about my dream house!