7 Ways Great Architectural Design Leads to Green Homes
7 Ways Great Architectural Design Leads to Green Homes
Indoor/outdoor water conservation.
Sustainable flooring.
Green electrical design.
Passive solar design.
Natural ventilation.
Insulated concrete forms.
Stormwater runoff reduction.
Green building techniques are in demand in custom home construction more than ever before. That's because today's smart home buyers understand that green homes offer great benefits both for them and the environment.
These are just seven of many ways green homes start with great architectural design.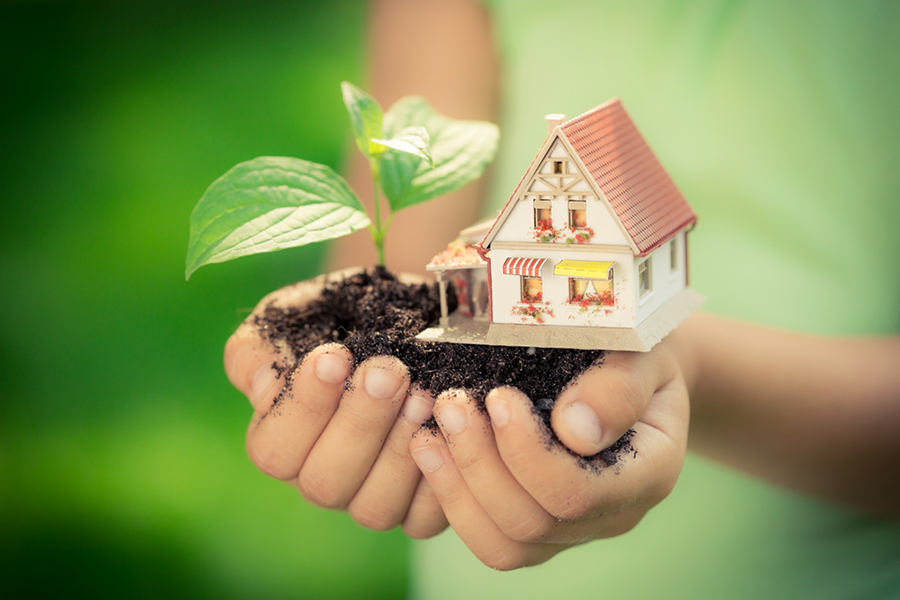 ---
1. Indoor/outdoor water conservation.
Low-flow toilets, showerheads, faucets and appliances aren't the only way to conserve water. At the design stage, your custom home builder can plan to install hot water circulation pumps that all but eliminate the need to wait for water to heat up at the faucet.
Other water conservation solutions address outdoor water usage, such as rainwater collection and drip irrigation systems for your gardens. The benefit to this goes beyond reducing water usage. Your plants will thrive better on rainwater than on tap water, which often has a high mineral content.
2. Sustainable flooring.
The main benefit of sustainable flooring to homeowners is that they also tend to be safe. Nontoxic, anti-microbial and moisture-resistant options are ideal for families with young children, or who suffer from allergies to mold, dust mites and other microbes. It's also a long-term gift to the environment. Your new flooring will one day be old flooring, perhaps updated by a new owner. When discarded, sustainable flooring is recyclable and biodegradable.
3. Green electrical design.
Planning for dimmer switches is a simple way to reduce energy. Where smart architectural design gets even smarter is in installing light fixtures thoughtfully. Typically, it's better to have more fixtures to light a space than you think you need, and more switches so you're not lighting more than necessary.
It's also best to plan to install a rough in conduit for future solar panels if you plan to do so. It will make solar integration much easier and less costly.
4. Passive solar design.
Solar roofing is a wonderful idea for reducing energy consumption. That is considered an active solar technology, because it involves converting solar energy into electricity. Passive solar design, by contrast, takes advantage of the sun's light and heat naturally.
Building orientation and window placement to provide natural light and heat, most frequently on the south side of the home, are aspects of basic passive solar. A more advanced option is the use of trombe walls, which absorb solar energy and slowly release it over time.
5. Natural ventilation.
No energy use is required to ventilate homes during cool days with a steady breeze as we get in South Carolina's Lowcountry. This concept is deceptively simple. Windows opened at opposite ends of the house force air in at the windward side, and a natural vacuum effect draws air out the leeward wide.
Smart architectural design is key to make this work, especially in a two-story home. If upstairs windows are opened, the cool air coming in will absorb heat in downstairs rooms, rise and exit through the second floor. This convection effect can only happen if the home is sufficiently open to facilitate airflow.
6. Insulated concrete forms.
Also called "insulating" concrete forms, these are hollow foam blocks reinforced with steel and filled with concrete. This is an incredibly durable material to use in the foundation of a new home or even the entire exterior wall.
ICFs can also significantly reduce your energy bills. When you are not utilizing natural ventilation, they do an excellent job of keeping your temperature controlled air in and outdoor dust and other allergens out.
7. Stormwater runoff reduction.
Architectural design can prevent stormwater pooling and runoff by balancing hardscapes with porous landscapes. Pooling water is not only annoying for you as a homeowner as it drowns your plants and looks unattractive. The runoff is also bad for the environment.
As stormwater runs into sewers, it carries contaminants like pesticides, pet waste and auto fluids. This puts stress on the Lowcountry's water reclamation efforts, which can add to the community cost of reclaiming stormwater for irrigation and wetland preservation. We can prevent this at the design stage.
And that's just a start.
Want to know what else we can do to make sure your new Lowcountry house is an efficient, sustainable, green home?
Contact us today to learn more.
Let's talk about my dream house!